If you are looking for kids music lessons in Bethlehem, you are certainly looking in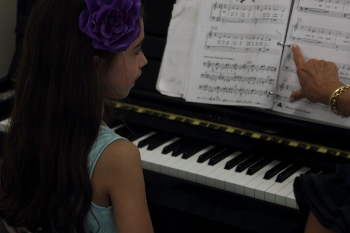 the right place. Bethlehem has a rich and long-standing tradition of music-making that is very much alive. A staunch and proud supporter of music and the arts, the city is not only home to The Bach Choir of Bethlehem--the oldest Bach choir in the United States--but, looking towards the future, it is turning Bethlehem into a mecca for lovers of music, arts, and culture that will be known far beyond the confines of the state. Banana Factory and ArtsQuest at SteelStacks, in particular, are transforming Bethlehem in front of our very eyes. In this kind of environment, you have many choices when it comes to music lessons for kids. In making your final choice, you should take into account several different considerations, some of which may be more obvious to you than others. Below are some thoughts to help you make the right decision for you child:
Private in-home music lessons vs. music lessons at a professional music school
If money is a serious concern, you are likely toying with the idea of hiring "a friend of a friend" or a neighbor down the street who happens to play the piano. They may teach your child "for a song"--in their home or yours. But what, exactly, are you buying for your money? What are the musical qualifications of that person to teach your child? Please note that poor teaching especially early in life builds bad playing habits that not only hamper your child's progress but will take years--and a lot of money--to undo later. Assuming that you'd like to see your child stick with music lessons long-term, "good enough for now" may not be good enough for her.
Equally important, do you trust that friend of a friend or neighbor of yours to spend 30 minutes or an hour with your child every week, unsupervised? Has the music lesson teacher you are considering undergone background checks? If not, do you have enough confidence in his or her integrity? Perhaps you are now ready to take a more serious look at professional music schools in Bethlehem for your music lesson needs.
As you will soon discover, not all music schools in Bethlehem are equal. On the most basic level, operations calling themselves "music schools" tend to fall into two categories--educational institutions cultivating an academic school environment, and music stores with appended lesson rooms in the back. Operations in both categories differ widely even on those very important and basic requirements of proper professional teacher qualifications and background checks. So, beware, and ask the right questions when you "interview" your options. Unfortunately, the "music school" environment does not necessarily guarantee good teaching. If you see instructors teaching multiple instruments, from flute through accordion, you should have a close look at their credentials to see whether or not they'd make for a suitable piano teacher for your child.
To be continued in Kids Music Lessons Bethlehem (Part 2)